AMERICAN MOLD INSPECTIONS – CERTIFIED INSPECTORS
Our Inspection services range from a single area of concern to the entire property. We may or may not recommend sampling and testing for mold. If we do recommend then it is your choice to move forward with sampling and testing for mold or not. Depending on the service we provide we will provide the corresponding written report. If your situation requires remediation then we can provide you with a report outlining the steps needed to accomplish the remediation process. After the remediation is complete we can return and perform the post remediation clearance testing. We perform all our inspections in compliance with the NATIONAL ASSOCIATION OF MOLD REMEDIATORS AND INSPECTORS Standards Of Practice and Code Of Ethics.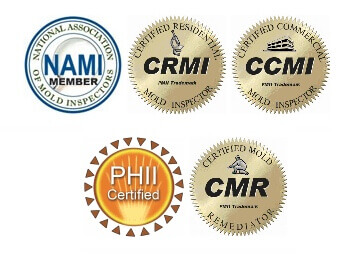 Why Choose American Mold Inspections?
Mold Inspection and testing only. We do not do remediation, it is a conflict of interest for the same person to identify and establish the need for remediation and then offer to do the work to remediate it. We give you an honest, unbiased opinion of your situation.
American Mold Inspections is a family owned and operated mold inspection company based in Southern California. In business since 2001, we service all types of properties, including single-family, multi-family residential, and commercial buildings.
If you suspect that you have a mold or water problem, we can find it and give you recommendations on what to do to correct the problem. Contact us today for more information!
WHY TEST FOR MOLD?
Molds are ubiquitous, and mold spores are a common component of household and workplace dust. However, when mold spores are present in large quantities, they can present a health hazard to humans, potentially causing allergic reactions and respiratory problems.
Some molds also produce mycotoxins that can pose serious health risks to humans and animals. Some studies claim that exposure to high levels of mycotoxins can lead to neurological problems and in some cases death. Prolonged exposure, e.g. daily home exposure, may be particularly harmful. Research on the health impacts of mold has not been conclusive. The term "toxic mold" refers to molds that produce mycotoxins, such as Stachybotrys chartarum, and not to all molds in general.
Learn More
CONTACT US- To Schedule An Inspection Or For Any Questions Please Call (714) 202-4022

We will reply to all emails within 24 hours.
We are available 7 days a week between 8am and 7pm.
American Mold Inspections
303 N Lone Hill Ave
Glendora, Ca 91741
Phone: