Anaheim, California Mold Inspections, and Testing
Our certified mold inspectors provide services ranging from informal single area inspections to extensive post-remediation clearance inspections with air sampling for laboratory testing.  Our mold inspection clients include homeowners, renters, property managers, and commercial building owners.
Regardless of the source — anything from a broken bathroom exhaust fan to major flooding — moisture problems commonly leads to mildew, mold, and rot.  That's often hidden mold, underneath flooring and inside walls.  Health issues and building damage aren't always obvious so besides noticing those fuzzy patches it's important to stay on the lookout for damp areas and musty odors as well as allergy and flu-like symptoms that all suggest you have a mold problem.
About Mold
Mold is a type of fungus that lives off dissolved minerals, so it doesn't need light to grow.  And it spreads by releasing invisibly small spores that float in the air and travel on the slightest breeze.  Mold spores are already pretty much everywhere, indoors and out, with some 100,000 species worldwide and roughly a thousand in each local area.
Most of the publicity has been about one specific species — Stachybotrys chartarum toxic black bold.  But not all black-colored molds are Stachybotrys, and more importantly other species and colors (perhaps one out of every ten) also produce mycotoxins at high levels.  Pretty much any type can cause allergies that may lead to serious respiratory problems.  And when they invade porous materials such as wood, gypsum board, and acoustic tile those materials have to be replaced.
Since most types pose a hazard to human health, laboratory testing is usually not necessary– all mold growth simply must be removed.  But it's critical that all affected areas are identified, including those hidden from view.
Learn More
Types of Inspections
It only takes a bit of lingering moisture to trigger rapid fungal growth.  So our certified inspectors are on the lookout for water-damaged building materials and our visual inspections typically include humidity and surface moisture measurements.  Whether you're dealing with major flooding, a leak or appliance failure, or an overly-humid bathroom or kitchen we tailor our services to your needs and concerns.
Single-Area Inspections
Often there's a single area of concern — visible fuzzy patches or a water damage incident.  In some cases, our single area inspections may result in an economical verbal report after we visually inspect the area.  In other situations, a formal written report or more extensive mold testing may be appropriate.
Visual Inspection
Since mold spores travel so easily, it's often appropriate for visual inspections to cover the entire building.  A detailed and comprehensive written report is especially important for property pre-sale and pre-purchase inspections.
Hidden Mold
If odors or health symptoms suggest a mold problem but there are no visual indications, our inspections may include
thermal imaging to detect hidden moisture,
visual inspection using a bore scope inserted through a small hole,
removal of building materials to access cavities, and/or
taking air samples for lab testing.
Testing for Mold
When appropriate (such as for legal, medical, or hidden mold growth) we will take samples for testing by an accredited laboratory and report the results to you.  Samples may include indoor and outdoor air as well as surface (tape) samples and bulk material samples.
Post-Remediation Clearance Inspections
After a major mold remediation effort, it's often desirable to have a post-remediation clearance inspection to confirm that spore and mold removal was complete.  There are no standards for levels of contamination, so it's most common to compare indoor and outdoor levels.
CONTACT US- To Schedule An Inspection Or For Any Questions Please Call (714) 202-4022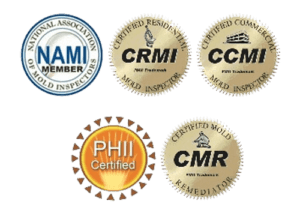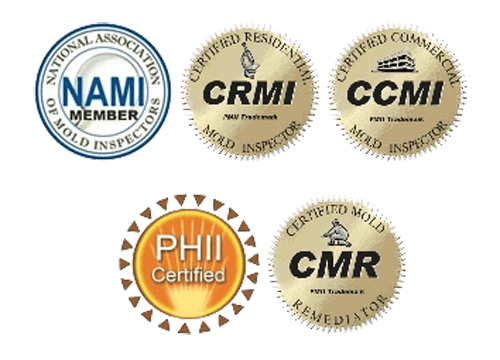 American Mold Inspections
Our founder has been in the industry for some 40 years, and is a highly trained certified mold inspector. From a single area to an entire structure and surrounding grounds, our services are in full compliance with the National Association of Mold Remediators and Inspectors Standards of Practice and Code of Ethics