Santa Monica, California Mold Inspections, and Testing
Mold, mildew, and "dry" rot are common in humid areas, including much of Santa Monica.  That's especially true in today's energy-efficient buildings that eliminate drafts, greatly reducing the flow of air between indoors and outdoors.  So leaks overflow, and poor bathroom or kitchen exhausts are much more likely to lead to mold problems here.  Mold growth can occur in complete darkness, so a mold inspection is often necessary to track down hidden mold.  Most often that takes the form of a visual inspection by certified inspectors and can range from a single area of concern to the entire property.  Ignoring concerns brings a risk of serious building damage and serious human health hazards.  So it's definitely not something you should put off.
Mold Problems
A type of fungus, the thousands of species of mold all reproduce by spores.  Invisibly small "seeds," mold spores float on the smallest of air currents and are pretty much everywhere indoors and out.  Like other fungi, it prefers damp dark places and the same range of temperatures that people prefer.  Not needing sunlight, mold growth can occur wherever there are moisture and a source of nutrients such as those found in carpet, ceiling tiles, cloth, gypsum board, paper, wallpaper, and wood.  Even dust and many types of paint.  Once infested these materials must be replaced, so building damage can be extensive.  And expensive.
You're likely to develop major mold problems in Santa Monica whenever moisture lingers due to a leak, overflow, or spill — just about any source of water damage.  There can also be major outbreaks, both visible and hidden when bathroom exhaust fans or kitchen hoods aren't providing enough ventilation.
All species of mold release allergens and some people are much more sensitive than others.  That, in turn, can lead to upper respiratory infections and other serious conditions.  Nearly all species also produce mycotoxins at some level.  Some, such as Stachybotrys chartarum (black mold) do so at high enough levels to be called toxic molds.  Coming in more colors than black, extensive exposure can lead to severe health conditions, including permanent organ damage.
Learn More
OUR SERVICES
Inspections
If you suspect a problem but can't locate it or if proper removal of visible mold doesn't fully resolve the problem, it's time for a mold inspection.  Our Santa Monica certified inspectors start with a visual inspection looking for water damaged building materials as well as fungal activity, supplemented by moisture meters to help identify damp areas.  They're experts at inspection, hidden mold detection, and testing for commercial as well as residential homes and apartments.
Single Area Inspections
If you've had a specific problem such as a roof or plumbing leak, a bath tub overflow, or a burst washer hose, we can visually inspect that area of concern.  That can conclude with either a verbal discussion or a written report.
Extended Visual Inspections
When hidden moisture is a significant concern we can perform a more extensive investigation.  That may include using thermal imaging to identify damp areas beneath surfaces, using an optical or electronic bore-scope to peer into building cavities through a tiny hole, or opening up those cavities for a thorough look.  A written report will detail our findings and outline the steps necessary to dry, remove, and remediate the mold growth.
Post-Remediation Clearance Inspections
We also perform inspections to verify whether or not a remediation effort was successful.  Our mold inspectors can collect samples for laboratory testing, but post remediation clearance testing is normally performed only for pre-sale or pre-purchase documentation.
CONTACT US- To Schedule An Inspection Or For Any Questions Please Call (714) 202-4022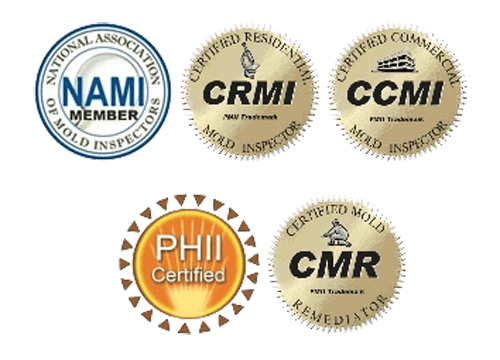 American Mold Inspection
A family owned business, American Mold's founder has in the mold restoration industry for nearly 40 years. We're a licensed California General Contractor and you can count on the professionalism and expertise of our certified inspectors.  All inspections comply with the National Association of Mold Remediators and Inspectors code of ethics and standards of practice.