Santa Ana, California Mold Inspections, and Testing
Our mold inspection services range from visual inspection of a single worry to detailed hidden mold inspection of an entire property — single-family, multi-family residential, and commercial.  Our results range from a verbal report to a detailed report with specific remediation recommendations.  And our certified inspectors may also take samples for post-remediation clearance inspections at Santa Ana homes and businesses.
About Mold
Mold is a type of fungus, and as such it can thrive in complete darkness.  Feeding on many types of building materials, only lingering moisture is necessary for extensive mold growth.  Mold spores can be found just about everywhere in Santa Ana, indoors and out, so any dampness can lead to a mold problem.
Fungal activity directly destroys porous materials such as sheet rock and wood.  It also poses a hazard to human health.  Fortunately this is mostly due to the release of allergens, giving rise to symptoms such as throat and eye irritation, headaches, sneezing, fever, and chronic coughing.  But some produce mycotoxins that can cause very serious illnesses with prolonged exposure.
The most common species posing serious problems in Santa Ana include the following.
Stachybotrus (black mold), typically affecting carpet, ceiling tiles, drywall, insulation, and wallpaper.
Penicillinium, commonly infecting drywall, food, wallpaper, and water damaged building materials.
Cladosporium, often affecting fiberglass air duct liners, paint, textiles, and water damaged materials.
Learn More
OUR SERVICES
Santa Ana Mold Inspections
Our mold inspections focus on areas with moisture problems, but extend to all areas with the potential for building damage and health risks.  Testing for mold isn't usually necessary — if found molds should be removed, regardless of species — but testing can be important in certain situations.
Single Area Inspections
You may have a single area of concern, such as after a plumbing leak.  Our single area inspections are an economical option to check out the problem.  After performing a visual inspection we'll provide a verbal or written summary of our findings and recommend drying and removal steps as necessary.
Entire Home Inspections
With a flooding incident or concerns about hidden mold, we can extend our visual inspection to your entire home.  In addition to visually inspecting the property we'll also use moisture detection instruments to identify potential problem areas.  You'll receive a detailed written report of our findings, remediation recommendations, and guidelines for future prevention.
Apartment, Commercial Mold Inspections
With residential rentals and commercial buildings, liability is an additional concern.  So our inspections cover all accessible areas for existing and potential problems and conclude with a comprehensive report for owners and property managers
Hidden Source Detection
Sometimes odors, health symptoms, and mold spore concentrations indicate mold growth but the source remains unknown.  Thermal imaging and borescopes (like miniature periscopes inserted through a tiny hole in a wall, ceiling, or floor) let us look behind surfaces.  In some circumstances, it may be necessary to open building cavities to fully assess the scope of an outbreak.
CONTACT US- To Schedule An Inspection Or For Any Questions Please Call (714) 202-4022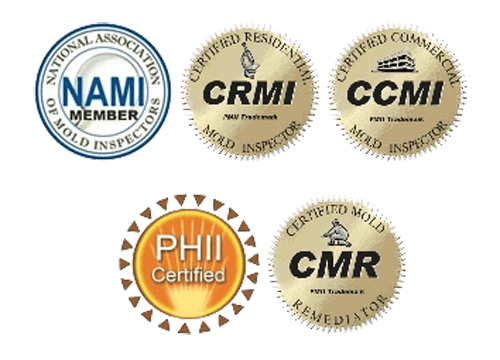 American Mold Inspection
A family owned business, American Mold's founder has in the mold restoration industry for nearly 40 years. We're a licensed California General Contractor and you can count on the professionalism and expertise of our certified inspectors.  All inspections comply with the National Association of Mold Remediators and Inspectors code of ethics and standards of practice.